Secret escape to Alpine Gosau…
August 07, 2018 - 09:15
Posted in:
0 comments
Lovely village Gosau is located in Austrian Alps in about 60 km southeast of Salzburg at 750 meters above sea level. It is well situated between enormous massif Dachstein and tranquil Gosau lake. Gosau today is rapidly developing touristic region that is not overloaded with tourists yet and offers unforgettable holiday experience.
Lovely village Gosau is located in Austrian Alps in about 60 km southeast of Salzburg at 750 meters above sea level. It is well situated between enormous massif Dachstein and tranquil Gosau lake.
Gosau is stunning peaks, beautiful meadows, shining valleys and lakes, traditional Austrian farm houses and other breath-taking views. However, besides that Gosau today is rapidly developing touristic region that is not overloaded with tourists yet and offers unforgettable holiday experience.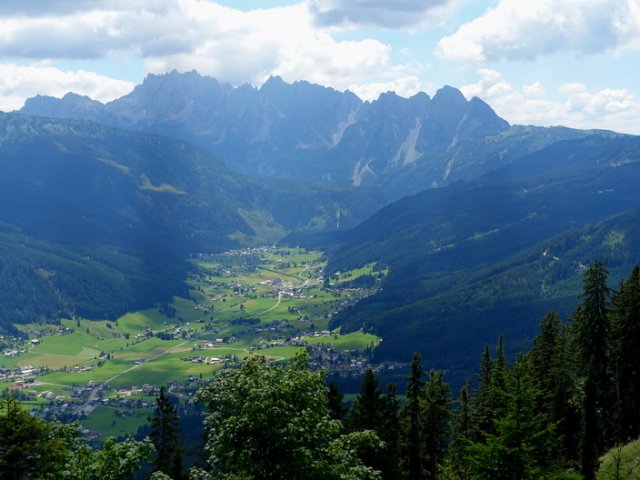 Gosau valley surrounded by mountains is ready to accept tourists all year around | © Benesteem Switzerland
Gosau is an alpine village with approximately 1900 inhabitants and has a history tracing back to the early 13th century, when Gosau was colonized by monks of the St. Peter abbey of Salzburg. The community of Gosau extends over an area of 113 km², most of this mountains and alpine forests.
Gosau is located in the center of the UNESCO World Heritage Region "Hallstatt Dachstein Salzkammergut", which is distinguished as World Cultural Heritage and World Natural Heritage.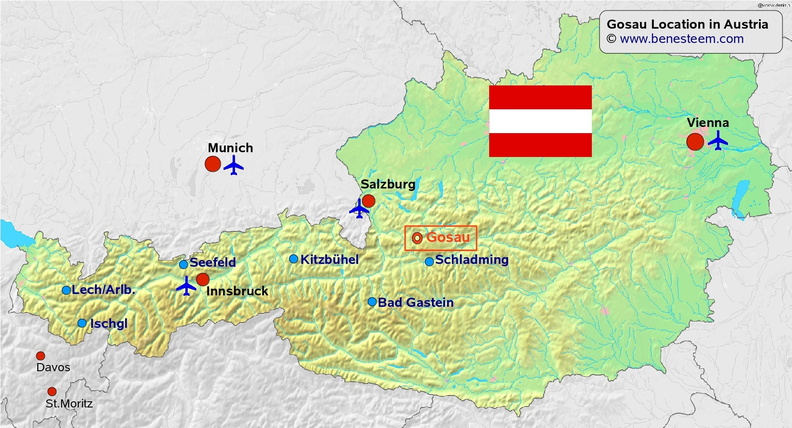 Location of Gosau village at map of Austria | © 2016 Benesteem Switzerland
Climate
Gosau belongs to the alpine climate zone, which is characterized by moderate rainfalls, with the winter months of January and February often of prolonged dry periods with a lot of sunshine. Because of its special microclimate, the Gosau valley is virtually defogged, both in summer and in winter.
Gosau has exceptionally clean and healthy air, as there is absolutely no industry and no major throughways in the region. In addition, the vast alpine forests of firs and mountain pines are natural producers of oxygen and regulate the air humidity to pleasant levels. Currently, there are activities to award the predicate "Climatic Spa" to the Gosau valley within the near future.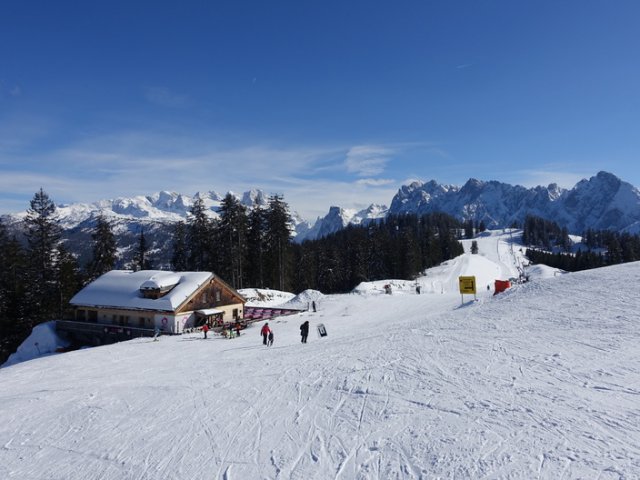 Gosau Ski Region: View to Dachstein (left) and Gosaukamm (right) Massifs | © 2017 Benesteem Switzerland
Average temperatures:
High Summer (July/August):        Day: 25 °C    Night: 15 °C    Day maximum: 35 °C
High Winter (January/February):  Day: -5 °C     Night: -15 °C   Night minimum: -30 °C
Snowfalls
Despite its comparatively low altitude, Gosau is a very snow-rich and snow-secure skiing destination. This is due to the special microclimatic situation of the Gosau valley: alpine high valley, surrounded by large mountain massifs on all four sides.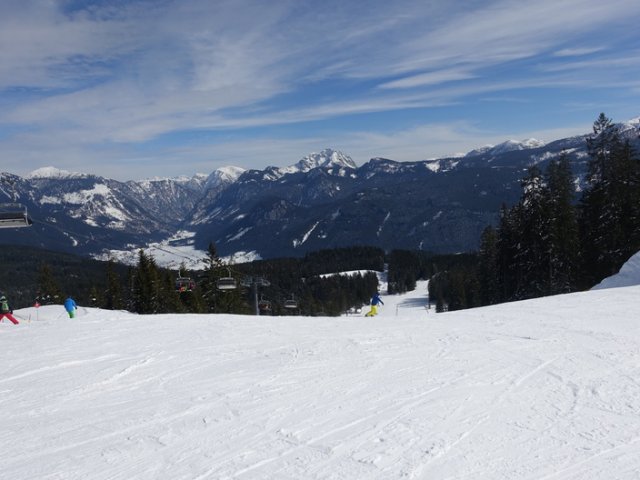 View from the Gosau ski area to the Gosau valley. Even in March the valley is still completely snow-covered | © 2018 Benesteem Switzerland
In normal winters, the valley is snow-covered from mid-December until end of March. In high winter, snow levels of more than 1 meter in the valley and 2,5 meters on the mountain tops are usual. Gosau is classified as snow load zone "4", the highest category according to Austrian industrial standard ÖNORM B 1991-1-3.
Tourism
Tourism in Gosau dates back to the middle of the 19th century, when the Austrian Emperor Franz-Josef I, who chose nearby Bad Ischl as his summer residence, visited the Gosau valley often for leisure and hunting excursions. With him, a large entourage of noble and bourgeoise visitors came and made vacations in the mountains "en vogue".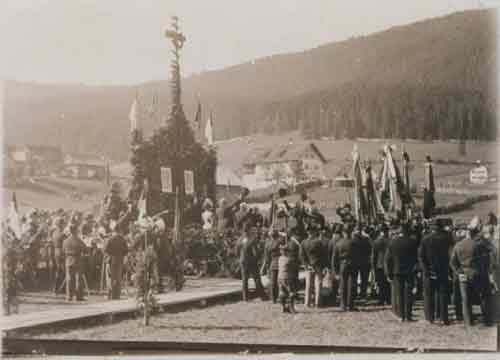 Gosau, 1854. Emperor Franz-Josef in the middle, right (waiving his hat); Empress Sissi left (in white dress). Probably the oldest photography from Gosau | © www.gosaunet.at
Soon later, climbing and mountaineering in the Alps became popular among young men (and increasingly also women), looking for sport and natural adventure. Around 1880, the first high-alpine lodges where build in the Dachstein massif, most of them still existent and used until today.
At the same time, summer vacations in the healthy climate of the Alps began attracting also middle-class families from the large cities, and better transport by train and motorbus made the Gosau valley accessible for everybody. Also, the numerous picturesque lakes of the Salzkammergut region, like Lake Hallstatt, Lake Wolfgang and Lake Traunsee, which are in the close vicinity of Gosau, lead to a steady increase in summer guests. During this period, the first real hotels where build in the Gosau valley, and almost every farmer leased some rooms in his farmhouse to the summer guests, adding some much-needed extra money to the farm's income.
The first steps into alpine skiing started, like in other parts of Austria, in Gosau in the early 1920ties. At that time, ski lifts and prepared ski pistes were not yet invented, and the sportsmen had to walk themselves up to the summits, before they indulged into the adventure of racing downhill.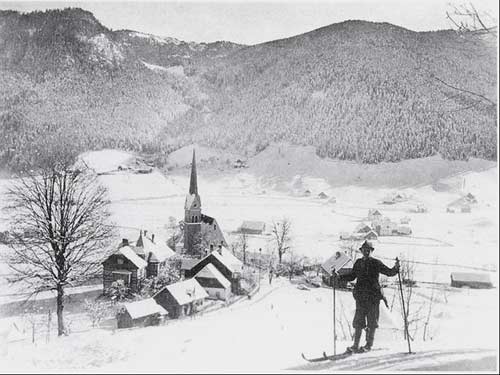 Alpine skier above Gosau, 1920 | © www.gosaunet.at
The first modern ski lift was built in the Gosau valley in 1970. Since then, the region has invested continously into improving and expanding the ski region, and until now established a first-class alpine ski destination under the brand name of Dachstein-West. Dachstein-West, with Gosau at its center point, today offers more than 140 km of ski pistes for all tastes and skills.
Although Gosau is a small alpine village, it has all neccessary infrastructure to fulfill the daily needs of both local inhabitants and holiday guests. It includes:
Two supermarkets, butcher, bakery, cafes and restaurants, several sport shops

Three banks, post office

Doctor's office with pharmacy, dentist, physiotherapist

Skibus free of charge (during winter season)

International airport Salzburg W.A. Mozart (IATA-Code: SZG). Direct flights to more than 40 European destinations, world-wide connections via Vienna and Frankfurt. Transfer time to Gosau ca. 50 minutes

Easily accessible by car via major roads; nearest Autobahn exit Golling (about 30 minutes); nearest railway stations Steeg-Gosau (regional trains, about 15 minutes) and Golling-Abtenau (international express trains, about 40 minutes).
Winter activities
As the statistics show, Gosau has similarly high occupancy rates during winter and summer seasons. This is a big advantage over other alpine ski resorts of comparable size, where the winter season is the only source of profits.
Successful alpine destination must offer a wide variety of winter activities to its guests. Research studies predict that within the next 10 years, only 50% of all winter guests will do technical alpine sports like skiing or snowboarding. Instead, more "soft" sports like cross-country skiing, snow-shoe hiking or simply relaxing in the alpine winter sun and enjoying the atmosphere of the mountains, will be appreciated by the winter guests.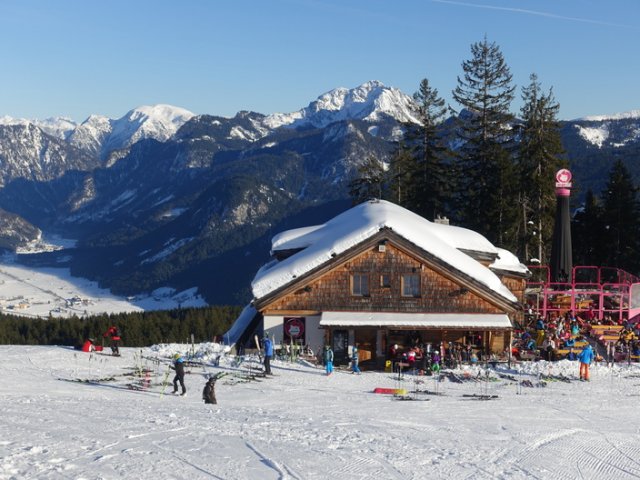 Go-GoSau mountain lodge, a popular place for Aprés-Ski lovers in the Gosau ski region | © 2017 Benesteem Switzerland
The main reason is the fact that the average age of the winter guests is rising year by year, because of demographic effects in the industrialized nations and the growing number of wealthy pensioners in Europe, America and Asia. This growing (and often affluent) segment of tourists is either too old to begin learning to ski, or they decided to finish with alpine skiing because of risk of injury.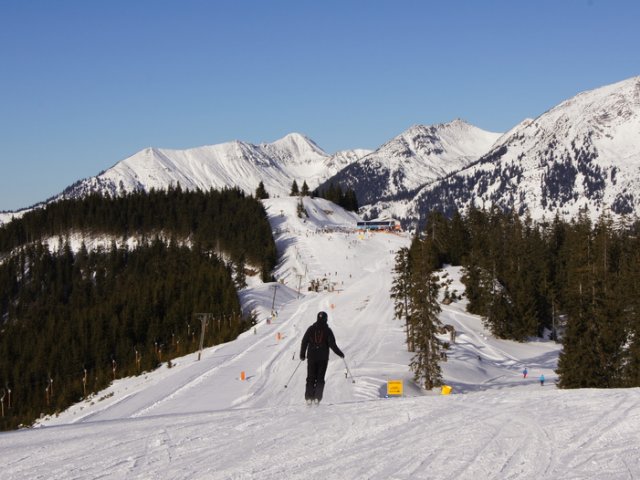 Gosau region offers more than 140 kilometers of perfect ski pistes. | © Benesteem Switzerland
Any alpine destination, which want to be successful in the future, must be aware of these trends and offer attractive holiday opportunities for this increasingly important guest segment. Gosau in winter offers entertaintment for each segment of tourists.
This ski region offers more than 140 km of alpine ski pistes, from children's and beginner's parks to "Black"-rated race tracks and special pistes for snowboarders and freestylers. Skiing season starts from December 1st and lasts until begining of April.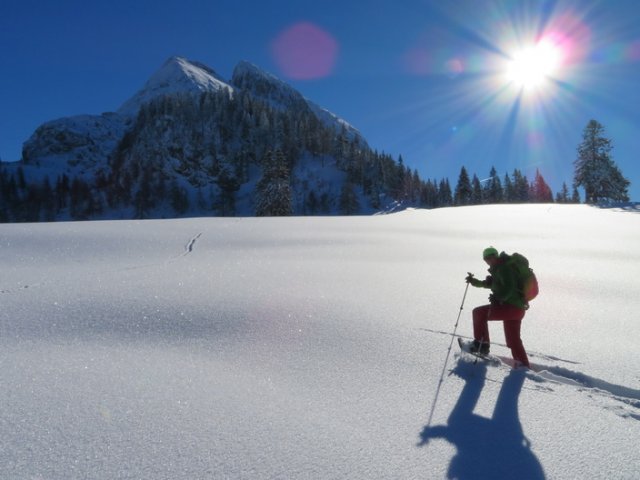 Snow-Shoe Hiking - the new mega-trend in alpine winter sports | © 2017 Betty Jehle
Aside traditional skiing there also possibilities for ski touring in high-alpine regions. The Dachstein glaciers offer excellent routes for all skills, with or without guides.
For those who prefer safer sport activities there are 50 km of sunny, well-prepared cross-country tracks, 2 km long toboggan run, romantic horse-sleigh rides, almost unlimited opportunities for snow-shoe hiking, walking on specially prepared winter walking trails in the Gosau valley.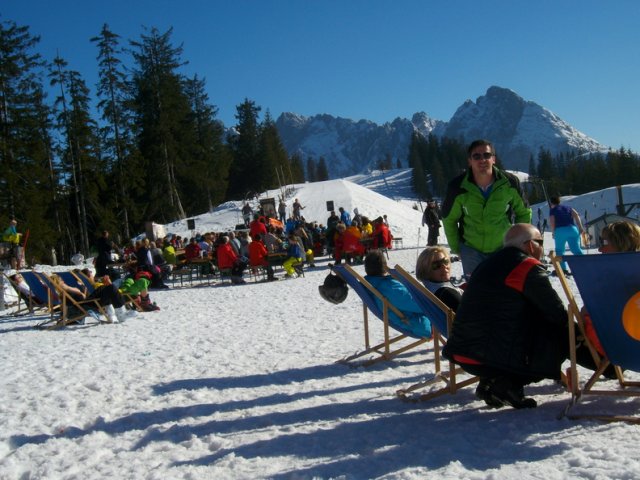 Sun-bathing is one way to relax in Gosau | © Benesteem Switzerland
Cozy and romantic mountain huts and lodges invite for sun-bathing in the clear alpine winter sun and treat you with tasty local food and excellent wines.
We also have to mention special winter events in the region. Famous Christmas Markets and concerts at Salzburg, Gosau and Lake Wolfgang during the Advent season, the four weeks before Christmas (November 27th - December 24th) will help to create a feeling of fairy tail.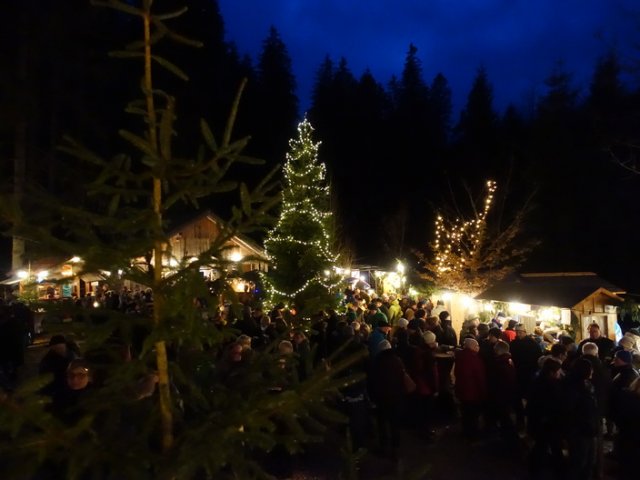 Christmas fairytale in Gosau | © 2016 Benesteem Switzerland
FIS Worldcup Skiflying Competition takes place at the giant Kulm skiflying hill near Tauplitz, approximately 30 minutes from Gosau. Being one of the only five skiflying hills worldwide, the world's best skijumpers and skiflyers gather at Kulm for four days of competition and society events (2nd weekend in January every year; World Championship was held here in 1996, 2006 and 2016).
During 3rd week in January every year International Dachstein Trophy Ballooning competition is organized in Gosau, with its famous "Night of the Balloons", where more than 40 balloons illuminate the night sky over Gosau.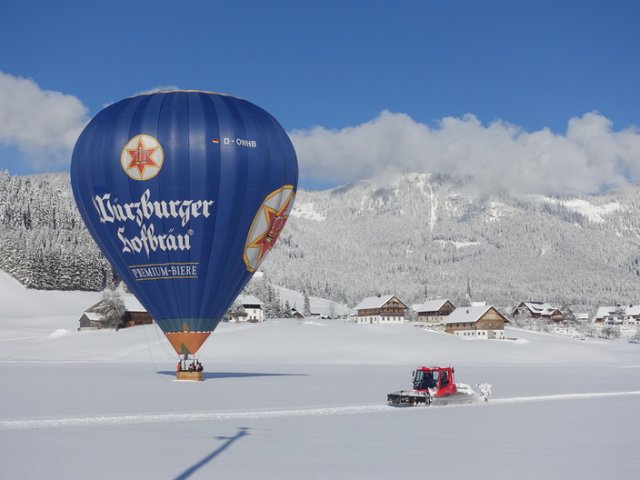 International competition Dachstein Trophy Ballooning in Gosau | © 2016 Benesteem Switzerland
Every year 10 days at end of January or in the beginning of February Mozart Week ("Mozartwoche"), classical music and opera festival in Salzburg, is devoted exclusively to the works of Wolfgang Amadeus Mozart. Salzburg, one of the cultural capitals of the world and an excellent shopping destination, is only a one-hour drive away from Gosau.
Every year during 2nd week of March there is ski- and snowboard-festival in a Dachstein-West Gaudiwoche in Gosau and neighboring ski villages. It includes sports events, live music and party on the mountains, special workshops and ski-testing, meet-and-greet with Austrian top ski sportsmen, and much more.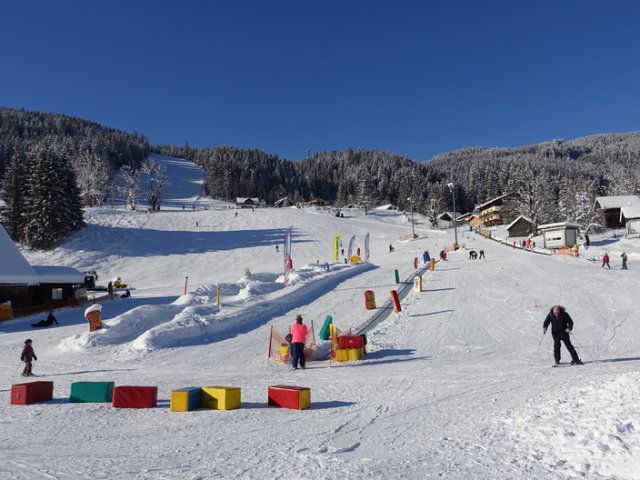 Gosau is a popular place for different sport competitions | © 2017 Benesteem Switzerland
Summer activities 
The summer season in Gosau is almost as strong as the winter season. The reason behind Gosau's success as a summer destination is not only the beauty of the alpine valley and its surrounding lakes and mountain massifs. It comes also from the fact that Gosau already developed into a summer holiday destination more than 100 years ago, far long before any alpine ski sport became popular. By this, a stable touristic infrastructure was created, and the Gosau region became a favourite summer vacation center for holidaymakers from all over Europe.
Nowadays, the Gosau region is increasingly popular with guests from the Far East, namely from China, Japan and Korea, who like to visit the picturesque historic town of Hallstatt and the former Imperial summer residence Bad Ischl. Many of them also come because of the region's healthy air, as a relief to the smog in the Asian megacities. In tourism year 2017, guests from Far East made up the third largest visitors segment, surpassed only by Czech and German tourists.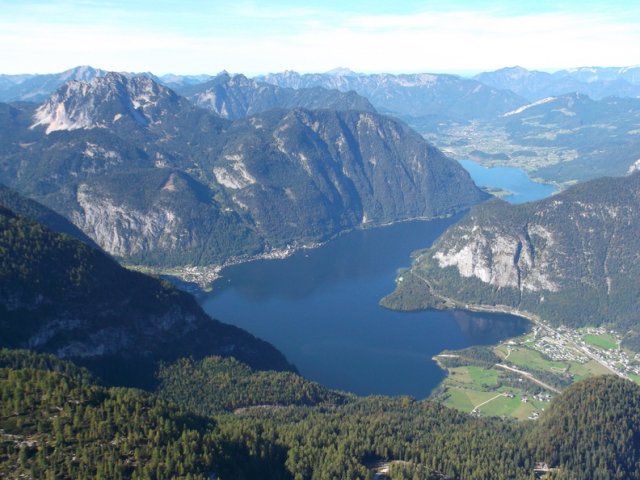 Lake Hallstatt | © 2014 Benesteem Switzerland
Hiking in the sunny mountain pastures and on the alpine trails of the Gosau valley, the Dachstein and the Gosaukamm massifs will be unforgettable for summer visitors. The Gosau valley offers virtually unlimited possibilities in a magnificient alpine panorama, from easy walkways suitable also for elderly guests or families with baby buggies to demanding climbing routes for sportsmen.
Several gondola cablecars lift summer guests effortlessly from the valley grounds to the mountain summits, up to 2109 meters above sealevel.
Mountaineering at the rocky peaks of Dachstein and Gosaukamm is an alpine adventure for sporty experts with rope and pickaxe. The Gosau summits are a famous climbing area since more than 150 years, offering routes from entry level up to difficulty level "IX-" (route "Da Hausa Lehra - Däumling", extremly difficult, only for very expert and top-fit climbers). The Dachstein massif has several large glaciers, which offer an additional experience to the alpine climbers.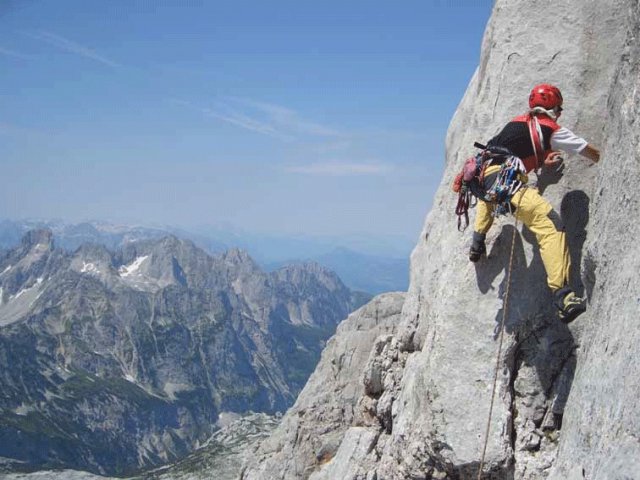 Alpine adventure for experts: mountaineerig in Dachstein massif | © 2015 Dr. Michael Kern
Mountainbike tours on well prepared trails offer family-friendly leisure routes as well as extremly demanding trails for the professional cyclist. For those guests, who like it more convenient, electrically powered E-Bikes are available for rent in Gosau, and special E-Bike routes enable even less sporty guests to enjoy the Alps on two wheels. E-Biking is expected to be one of the new mega-trends for active summer holidays.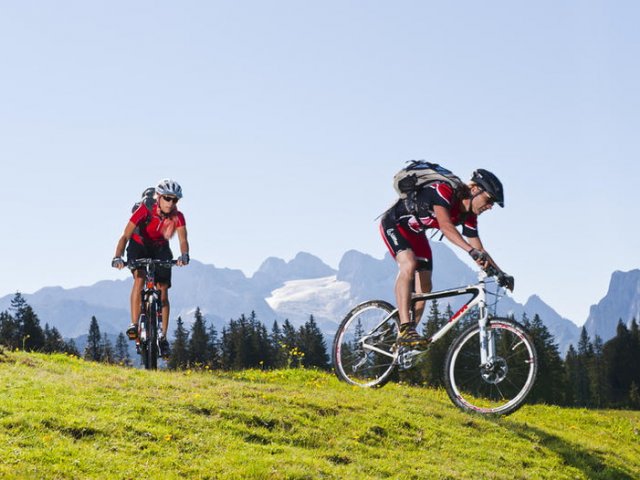 Mountaine bicycles rise in Gosau | © Salzkammergut-Dachstein Tourismus
Local glider schools offer tandem flights from the Zwieselalm and Krippenstein summits for passengers, and courses for those who want to learn this aeronautic sport.
Horseriding excursions are suitable for children, beginners and experienced horsemen.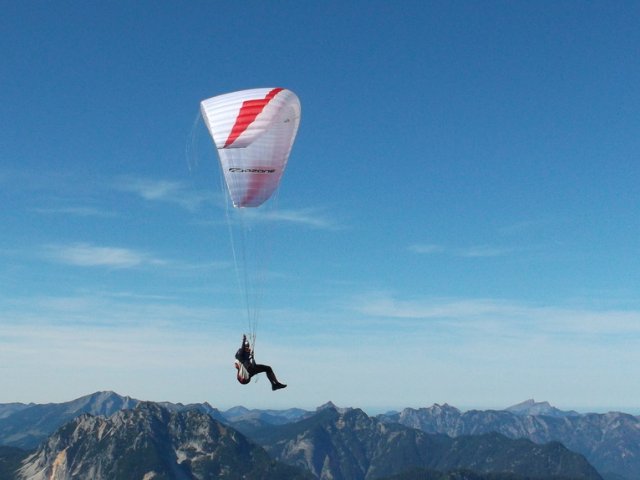 Paragliding is an entertainment for brave | © Benesteem Switzerland 
It is nice to spend some time on the numerous lakes of the Salzkammergut, like Lake Wolfgang, Lake Hallstatt or Lake Traunsee, all within a 10-to-30 minutes drive from Gosau. Several well-equipped lidos, with open-air sports and large playgrounds for children, allow guests to swim with a grandiose view of the snow-covered summits of the Dachstein mountains.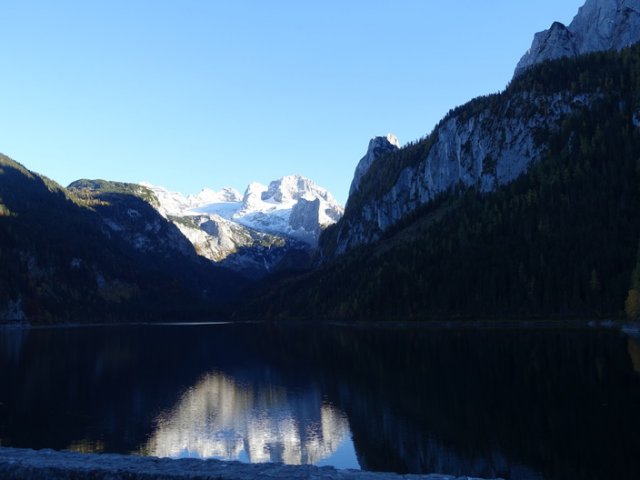 Misterious Lake Gosau | © 2017 Benesteem Switzerland 
Those who love history can visit with sightseeing excursions the medieval town of Hallstatt and the former Imperial summer residence Bad Ischl. Hallstatt, at the banks of the same name Lake Hallstatt, is one of the most photographed landmarks of Austria and has a history of more than 6000 years of salt-mining It attracts almost 1 million visitors per year, most of them from China and other overseas countries.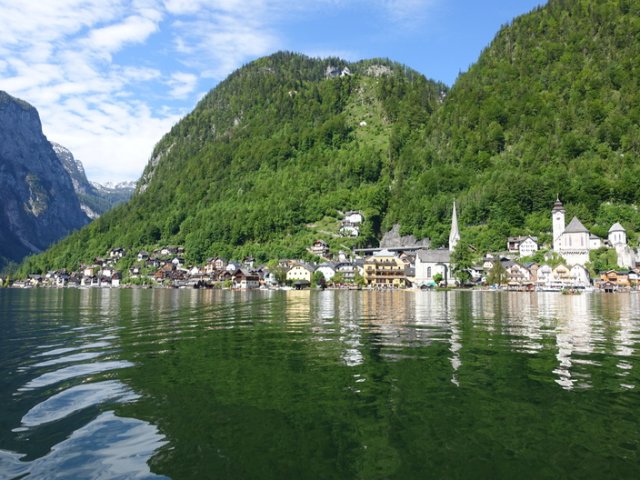 Romantic Hallstatt village is 10 minutes drive from Gosau | © 2016 Benesteem Switzerland
Bad Ischl, a charming little town and thermal spa, was the summer residence of the Austrian emperors until the end of the Austro-Hungarian monarchy after World War I. Each year from June until September, the Imperial court moved from Vienna to Bad Ischl, accompanied by a large entourage of aristocrats, artists and wealthy bourgeois for a summer of leisure, SPA treatment and entertainment. Today, the Imperial villa ("Kaiservilla"), spacious parks and a generous river-side promenade ("Esplanade") attract tourists from all over the world for a day of imperial summer feeling.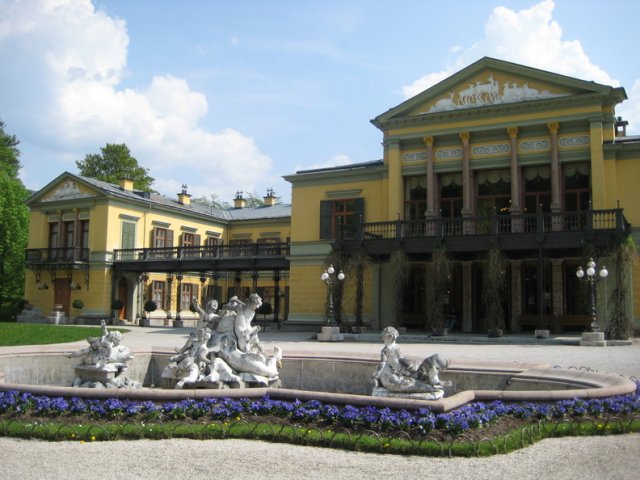 The Imperial summer residence ("Kaiservilla") in Bad Ischl, Austria | © Aconcagua, Cc-by-sa-3.0
The Dachstein caves is undergroud experience of a special kind. The Dachstein massif consists of limestone, and by this has numerous caves below its surface. The three largest of them are each more than 50 kilometers long and may be visited at guided cave tracking tours. The most fascinating of them, the Dachstein Ice Cave, has spectacular ice sculptures, gigantic ice curtains and impressive giant icicles, which exist in the permafrost climate of the cave and are illuminated by a fantastic light show.
Guided tour of the historical salt mine of Hallstatt (active since more than 3000 years) offers an unique multi-media and live experience on how miners won the "white gold", which in old times was a highly appreciated mineral and brought wealth to whole Salzkammergut region. 60 metres long wooden slides, a ride with an underground train, film shows, and more than 20 kilometers of mystically illuminated tunnels make the Hallstatt Salt Mine a full-day adventure for the whole family.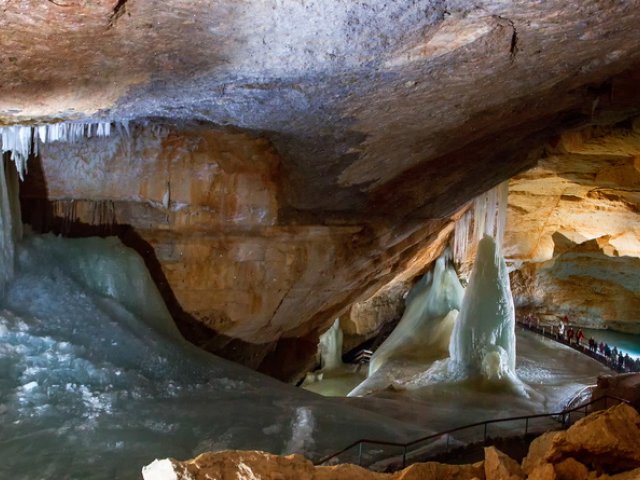 Dachstein Ice Cave | © Dachstein Tourismus AG / M. Schöpf
The city of Salzburg is not only one of the cultural capitals of the world, but also a world-famous sightseeing and shopping destination. As the birthplace of Wolfgang Amadeus Mozart, with an old town, which is largely unchanged since the 14th century, and a grandiose assembly of baroque churches, cathedrals and palaces, Salzburg is one of the must-have-seen places of Europe. Typical shopping goods include country-style fashion from highest quality and design, hand-crafted jewelry, both from traditional and avant-garde goldsmiths (prices go from a few hundred Euros to virtually unlimited), antiques and paintings from Salzburg's numerous art galleries. Or simply visit one of Salzburg's famous coffee-houses, enjoy one of the many local coffee specialities, together with unbelievable delicious sweets and cakes, and enjoy the good life... Salzburg is only a short 60-minutes drive from the Gosau valley.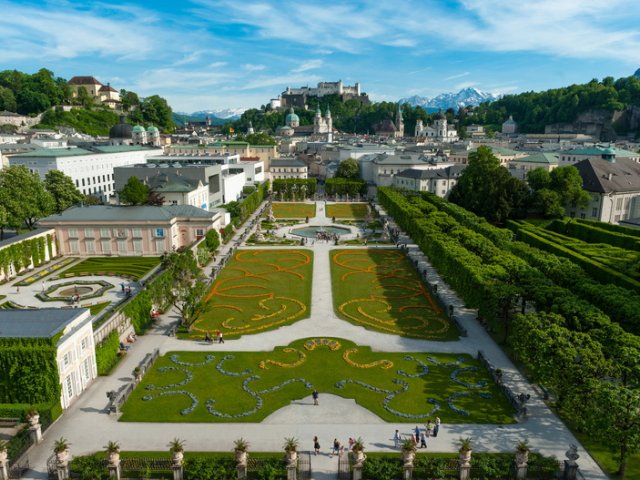 Salzburg is one of the must-have-seen places of Europe | ©Tourismus Salzburg
Other special summer events of the region include:
Salzburg Summer Festival, the leading festival of opera and classical music in the world. The world's best singers, musicians, conductors and orchestras meet together for a unique festival of performing arts. With a long tradition since 1920, the Salzburg Summer Festival attracts each year more than 250000 high-spending visitors and celebrities from all over the world (every year from mid-June until August 30th).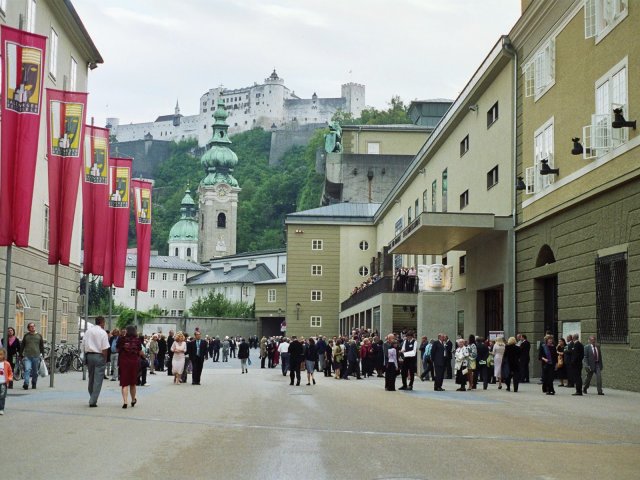 Salzburg Summer Festiva - significant event in world art | © 2013 Benesteem Switzerland
Corpus Christi Procession Hallstatt. An old catholic church rite in Austria is the Procession of Corpus Christi, by which the priest's blessings are given to town, houses and fields. At Hallstatt, which was until the end of the 19th century accessible by boat only, this procession is celebrated as a convoy of boats on the picturesque Lake Hallstatt since hundreds of years. Imagine hundreds of boats and small ships, all beautifully decorated with green branches, colorful ribbons and historic flags, parade around the lake with live music, while the priest ministers the Holy Mess. Thousands of spectators watch this traditional ceremony from the lake's banks or from pleasure-boats accompanying the procession (every year in spring time at Corpus Christi ("Frohnleichnam"), the 60th day after Easter).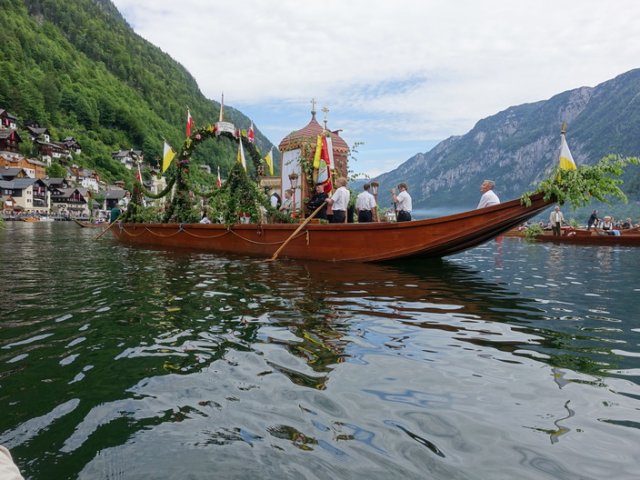 Corpus Christi Procession Hallstatt | © Benesteem Switzerland
"Alm Musi Roas" Gosau - festival of traditional alpine music. At this high-light for lovers of alpine tradition, musicians from alpine regions come together for a day of music and party on the most charming lodges of the Gosau mountains. The Alm Musi Roas (which translates as "Journey of mountain pastures music") is not only a festival of music and songs, but also of delicious local food and a show of traditional customes of the Alps (every year at first Sunday of July).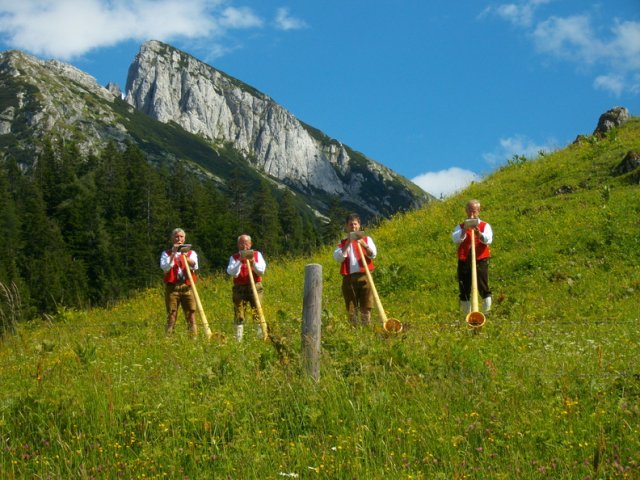 Musical performance during festival using Alphorn | © 2015 Benesteem Switzerland
Salzkammergut Trophy Mountain Bike Race, Bad Goisern and Gosau. The Salzkammergut Trophy is an international MTB marathon race, held on the alpine roads and moutain bike tracks of the Gosau and Bad Goisern region. With a 210 km long course and 7119 meters altitude difference, it is regarded as one of the hardest races of its kind and attracts more than 5000 athletes from all over the world. Besides the race itself, there is an attractive entertaining and social program for visitors of all ages: party, bike tests, workshops, fun competitions for amateur bicyclists, life music and more. The Salzkammergut Trophy attracts approximately 20000 visitors into the region (every year 3 days at the second weekend in July).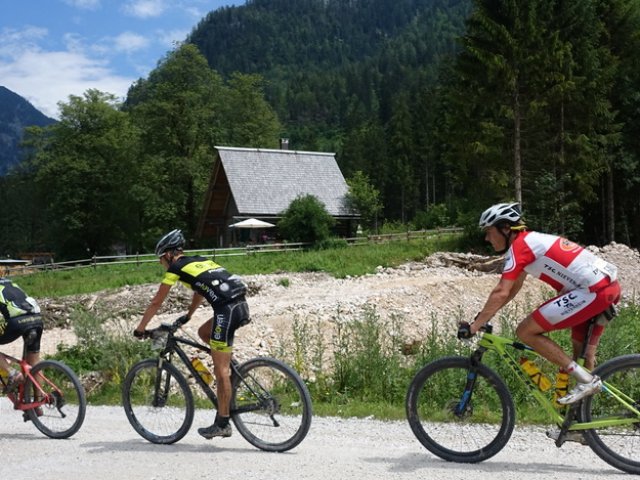 Salzkammergut Trophy Mountain Bike Race | © Benesteem Switzerland
"Almabtrieb" Gosau. The homecoming event when cattle, sheeps and horses return from their summer grazing season on the Alpine pastures back to their farms in the valley. The Almabtrieb (which roughly translates into "chasing down the alps") has been a traditional event of alpine lifestyle since old times, and now has transformed into the most important festivity at the end of the touristic summer season in the Alps. Cows and horses are adorned with sumptuously decorated, colorful head-gear, and farmers and tourists alike meet in the morning at the mountain hut for some hearty snack, drink and music. After this, animals and humans head downhill to the valley in a large and joyful procession, again greeted by music, dance and party when they arrive at the village. Tourists like the Almabtrieb events very much, as an authentic experience of traditional alpine life (several events every year during mid-September until beginning of October).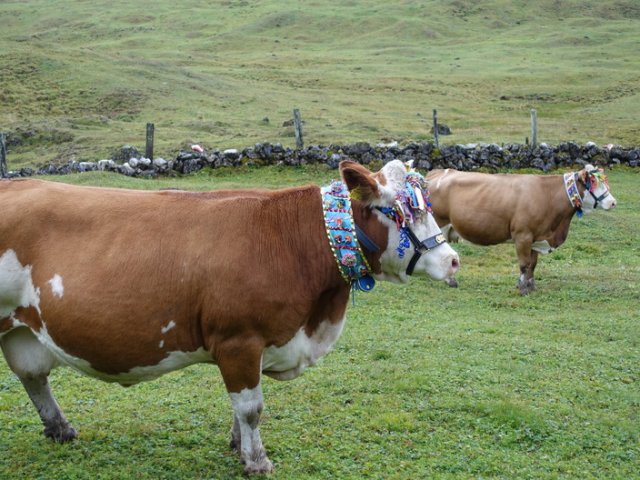 March of cows during Almabtrieb in Gosau | © 2015 Benesteem Switzerland
Gosau is mysterious and beautiful place in Austrian Alps that is ready to amaze and entertain tourists all year around. There is no doubt that everybody will find holidays he or she likes. Breath-taking landscapes and healthy air will help to rest from city rush. Skiing pistes will satisfy even most demanding sportsmen. Mutiple cultural events and sights of Hallstatt and Salzburg will impress history and art fans. And your secret escape to Gosau might become the most unforgettable experience in your life…